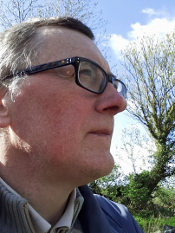 Patrick Stack was born in Limerick City, Ireland in July 1958, and Raised in Duagh, Co. Kerry.
The rich variety of hiberno-English spoken in North Kerry, and in particular in Duagh, and captured so brilliantly in the works of local playwright George Fitzmaurice, gave Patrick his love of language.
Educated at St. Michael's College, Listowel, he read French and English at Trinity College, Dublin.
Following short stints in Sierra Leone, Mallorca, and Austrialia, he emigrated to Seville, Spain in 1988 where he taught English, and worked as a translator and interpreter. He moved back to Ireland in 1995, and settled in County Clare, where he works as a web developer, programmer, and adult education tutor.
He is an active member of the 3-Leggèd Stool Poets group which he joined in 2007.
Patrick has had poems published in Voicefree, Revival Poetry Journal, Crannóg, Brigid's Fire, and The Clare Champion.
His first collection of poetry entitled The Parting was published in April 2013.